WELCOME TO REJUVENA COSMO CARE
One Stop Center for Hair Transplant, Body Contouring & Liposuction, Breast Cosmetic Surgery, Facial Rejuvenation, Scars Removal, Rhinoplasty and many more!
Our center is headed by Dr. Deepesh Goyal, a well qualified Cosmetic and Plastic Surgeon with a Special interest in various cosmetic surgeries. Post MBBS, he has done M.S. and M.Ch. in plastic and cosmetic surgery from India most renowned college Institute of Postgraduate Medical Education & Research (IPGMER and SSKM Hospital), Kolkata.
Affordable hair transplant treatment is now possible with the best cosmetic and plastic surgeon in Jaipur
Hair Fall and Hair Loss are some of the major problems found in individuals that occur due to increased stress, poor lifestyle and an unhealthy diet. In the case of extreme situations, the doctors suggest patients undergo hair transplant surgery to avoid further hair damage. Looking for the best hair transplant treatment in Jaipur that is affordable and can help you overcome the problem of hair loss? Your search ends with the highly experienced cosmetic and plastic surgeon in Jaipur Dr. Deepesh Goyal who has expertise in treating multiple problems related to skin and hair. Our expert hair transplant surgeon undertakes a complete examination of the scalp and thereafter suggests the most appropriate treatment for the hair problem.
Apart from the hair transplant treatment, the experienced cosmetic surgeon in Jaipur also offers quality treatment for a wide range of problems related to other body parts such as the face, skin, nose, breast, and lips. This includes cosmetic surgeries like liposuction, breast reconstruction, and augmentation, facial rejuvenation, along with scar removal and Rhinoplasty. Moreover, as the best plastic surgeon in Jaipur, the treatment is also offered for microvascular, burns, and trauma injuries.
Meet the Best Cosmetic & Plastic Surgeon in Jaipur
Dr. Deepesh Goyal is the best cosmetic surgeon in Jaipur who possesses rich experience in diverse types of cosmetic surgeries such as liposuction, breast reconstruction, and augmentation, body contouring, hair transplantation, rhinoplasty, facial rejuvenation, and scar removal. At Rejuvena, we not only enable patients to improve their aesthetic appearance, proportion, and symmetry but also boost their self-confidence that adds to the sense of well-being. Cosmetic surgery can bring drastic and long-lasting changes to the outside appearance which positively impacts the patients' confidence, self-esteem, and overall personality of the patient.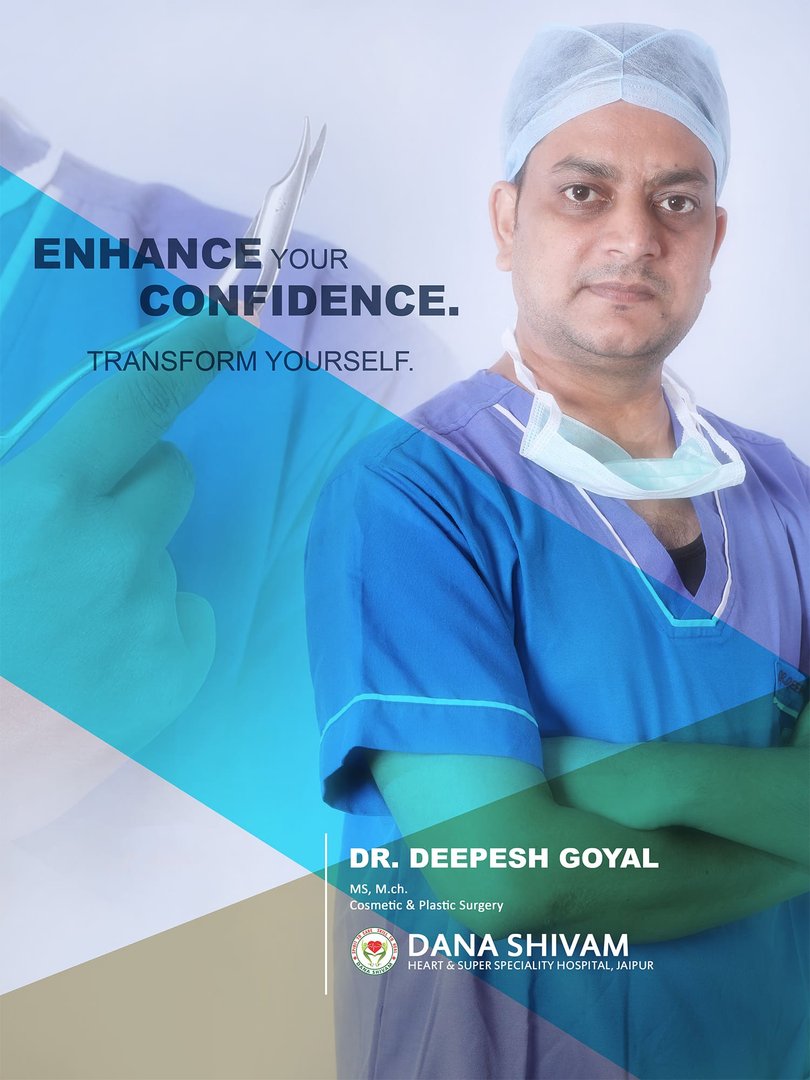 As the best plastic surgeon in Jaipur, Dr. Deepesh Goyal undertakes plastic surgery with a high level of expertise that intends to improve the dysfunctional areas of the body. Further, plastic surgery is reconstructive and some of the plastic surgeries undertaken at Rejuvnena include breast reconstruction surgery, hand, microvascular, burns, and Trauma surgeries. With the growing emphasis on improved body shape and appearance, the selection of a plastic or cosmetic surgeon is one of the core decisions that are required to be made by the individuals who want to have a perfect body and appearance. At Rejuvena, the updated knowledge of our plastic and cosmetic surgeon helps treat patients with the utmost care and patience.